When you crochet in super bulky/chunky yarn it definitely counts as a work out! Especially when you work with Hoooked Jute Yarn. The coarse natural material is anything but compliant. Still I am a huge advocate for this as it makes wonderful home decor items.
Beautiful textured strand of yarn
The sturdiness of each strand of jute turned into one thick rope really adds texture and somehow power to this yarn. Add this with the beautiful colour range and you truly have a wonderful material for your projects.
Good for the environment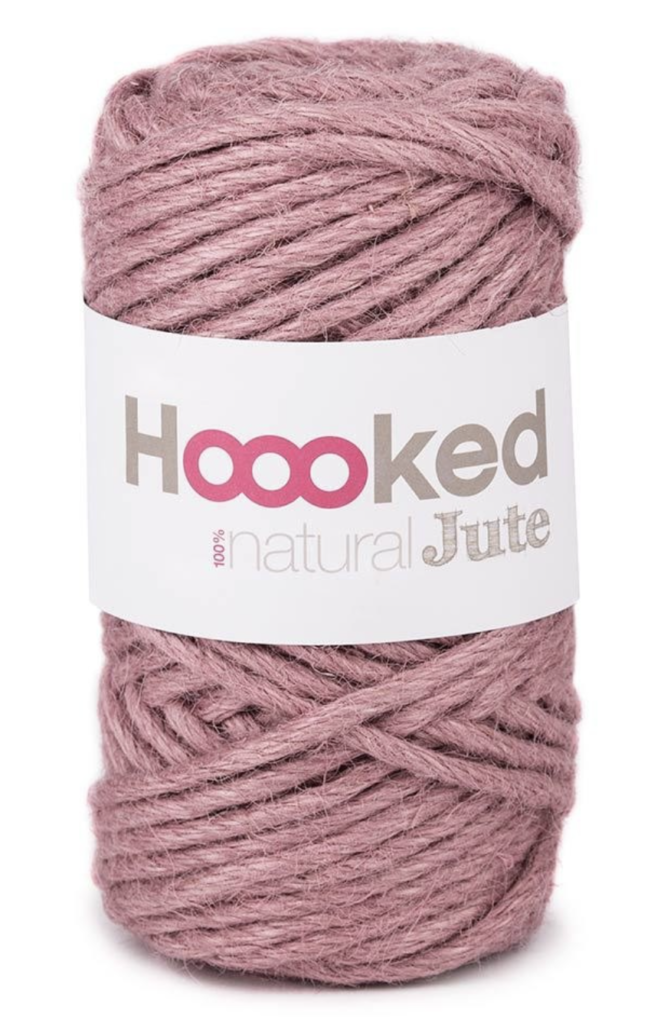 Jute is a sturdy 100% vegetable fiber and Hoooked Jute yarn from the Amazons is made without the use of fertilizer or pesticides by a BCS certified sustainable family-owned company in Brazil. On top of that it is also a Fair Trade product.
Its natural properties ensure a fully biodegradable final product.
It is not compliant
If this will be your first time working with jute, you might be surprised about the texture of it. It is not soft and I did get a blister from working with it. You can come across balls of thin jute, which is easier to work with. However for smaller projects this super bulky/chunky yarn is definitely still doable.
shedding
It sheds A LOT! This can be a nuisance, and it is challenging to deal with the problem in the middle of a project. Being prepared for the mess can help. One thing you can do is to cover your lap with a cloth, as you crochet. This way at least the fibers are contained. Once you finish your project a quick sweep with a lint roller, brush or even a vacuum cleaner will remove the remaining fibers from your clothes, sofa and/or floor.
If you feel like giving Hoooked Jute a go, take advantage of my free pattern for a Plant Pot. Just click on the image and you will be redirected to Lovecrafts, where it is available for download.
Crocheted Plant POT
Click on linked yarn labels to purchase online
gauge:
Magic Circle + 3 rows = diameter 10 cm
finished size:
Inner diameter 12 cm/Height 14 cm
All SCs and slip stitches are made in the back loop of the previous stitch.
*-* = repeat till end of round
1.: Make a Magic Circle + 6 SC
2.: *INC SC* (12)
3.: *1 SC – INC SC* (18)
4.: *1 SC – INC SC – 1 SC* (24)
5.-17: 1 Slip Stitch in each stitch
Cut the yarn and pull the loop through the last slip stitch – pull it towards the back through the next slip stitch and secure it on the back.
I truly hope you will try out Hooked Jute yarn and do share your lovely creations.
If you are unsure about any of the stitches feel free to browse through my Stitch Library.
Camilla
HOMEMADE & HEARTMADE