Once you are accustomed to crochet and the movement of the hook, you can focus on finding the right crochet hook in your preferred material. A crochet hook is a tool, but that does not mean it has to be boring. However first things first – the most common materials:
Materials
Crochet hooks are most commonly made out of these three materials:
However nowadays you can find beautiful designed or carved hooks in these materials as well:
When crocheting with thread instead of yarn, the crochet hook to match will also be very thin. This is why these more often than not are made out of steel in order to not break. They come either as one long steel hook or with a flattened handle in ie. wood for a better grip.
None are better than the other as it is a very individual choice, which material you prefer. I myself have a love for wooden or bamboo hooks. I find that they move more smoothly through the loops.
A little tip: if you come across a wooden hook that shreds a little, give it a few strokes with a nail file. Make sure the file is not made of metal as it will tear the wood.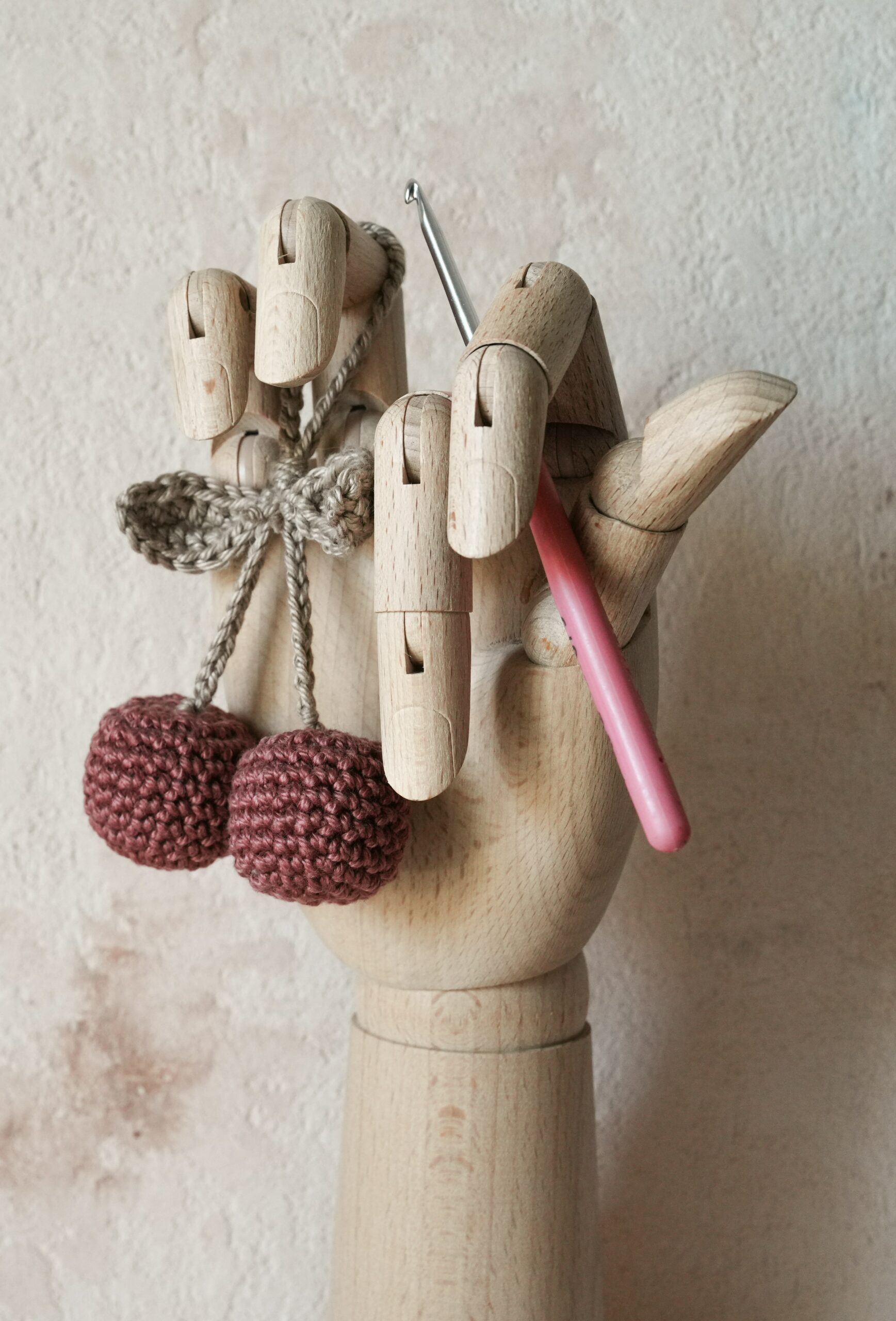 Sometimes it can be uncomfortable to work with regular crochet hooks for a longer period of times. Especially if you suffer from a hand condition such as arthritis or carpal tunnel. Luckily there are ergonomic crochet hooks available with broader handles shaped to create a grip that eases your crafting.
These are particularly great, when doing a project with a small sized hook. Due to the broad handle they are easier to hold – typically the hook itself will be made of metal and the handle can be in either three basic materials mentioned earlier. I believe that the ergonomic hooks Knitpro Waves are wonderful to work with.
You can choose to buy a simple hook that will function as a tool, however there are so many creative hook designers out there, so sometimes it can be fun to spend a little extra on a beautiful hook.
If you search for crochet hooks on ie. Etsy you will come across some beautiful and unique handmade designs by small businesses.
Check out these wonderful hooks from
HooksByAJ
.
Use your amazing crochet skills with your new awesome hook on some stitches from my Stitch Library.
I would love to know, who is your favourite crochet hook designer?