For some reason cups and mugs no longer have handles. And thus if the cups are not made of thermal porcelain, I just end up with burnt finger tips instead of a burnt tongue… Ouch either way?!
As much as I do love the design, it is rather painful, so luckily we can buy cup sleeves OR… We can use our amazing crafting skills and make Crocheted Cup Sleeves!
This way it is possible to enjoy a hot drink before it cools down too much.
Introducing beads
I recently purchased some organic linen which had a rough look to it. I thought adding some beads would act as a great counterpart due to their shimmering look.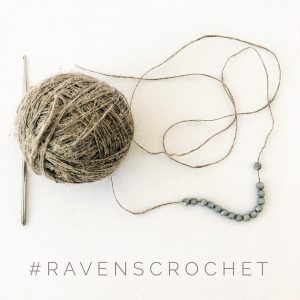 When using beads one really needs to know exactly how many to use, as you add these to the string before crocheting. So too many means you will need to push these throughout the entire project; too few means you will have to frog your work in order to add more.
This was also the case with my crocheted cup sleeve?!
Crocheted Cup Sleeve
(Click on linked yarn labels and image to purchase online)
Yarn
Organic linen or DMC Crochet Thread no. 10
Alternative: Phildar Phil Rustique or Schachenmayr Soft Linen Mix
Hook
1,5 mm
Gauge
22 SC x 25 rows = 10 cm x 10 cm
Finished Size
Length 6 cm
Upper  Circumference 27 cm
Lower Circumference 22 cm
I really love how the stitches come across in the linen – the expression is completely different when made in lace thread.
So I hope you will give beads a try and incorporate them in your crochet projects – please do share and now I will go make myself a cup of coffee…
Camilla
Homemade & Heartmade